Smart


vending machine

What makes This machine more than a ordinary tea/coffee making machine?

Multiple payement modes

Fingerprint Recognition

Cellular/wifi connectivity
Built in GPS

Sachet Dispensing system
3 Pin Plug and play
Auto Self Cleaning
High speed Dispensing

Built in hand Sanitizer
Mobile app Based Control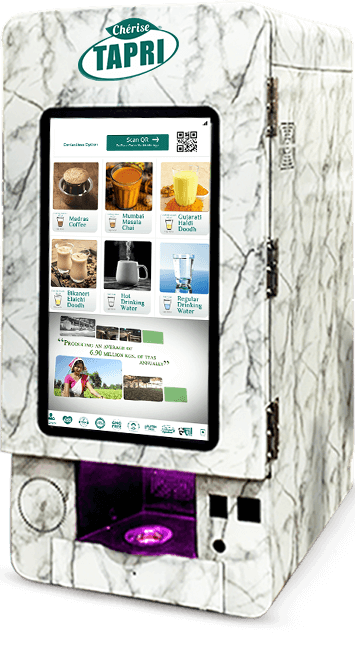 This is a fully automatic contactless Smart Coffee vending machine based on IoT, it has Smart Features like Built-in GPS, High-Speed Dispensing, Mobile App based control, Hand sensitization, multiple payment modes, Auto cleaning, Mobile data / Wifi Connectivity, fingerprint recognition, cloud-based IoT-enabled and Electronically Safe. This vending machine tea coffee is available in 3/4 beverage options with a variety of tea coffee premix for the vending machine.

Hygiene is one of the most important key factors. It has Pest Repellent & Smart Drainage System, Auto Self-Cleaning Mechanism as well as No liquid milk being used. We have a highly skilled and experienced team for before and after-sales support for smart vending machine solutions in India.
Non-Smart


vending machine
This is a high quality non android machine, it can dispense upto 10 cups of any hot beverage per minute. This machine is available in 2/3/4 beverage options.
---